We hope you had a fantastic 2019! We thank Westpark, Fiddyment Farm, & Junction West for Voting us Nextdoor Neighborhood Favorite Realtor for the 2nd Year in a Row! We love our community & are so happy that we get to do a large part of our business here in West Roseville!

As your local real estate resource, we feel it is important to keep you up to date on the real estate market. Even if you aren't Buying & Selling right now, a home is usually one of your Most Valuable Assets & you should monitor it similar to other financial assets.
Below is a breakdown of January 2020 Market Statistics, 2019 Year In Review Snapshot of our local real estate market, as well as 2020 Predictions from some of the most trusted entities in the industry when it comes to mortgage rates, home sales, and home prices for 2020 and forward.
If you would like a FREE Home Value Analysis from your Local Experts to get a better idea of how much Equity you have Gained, Simply Request HERE.
We LOVE answering your questions, so please don't hesitate to reach out anytime, we offer FREE No Hassle, No Obligation Buyer & Seller Consultations.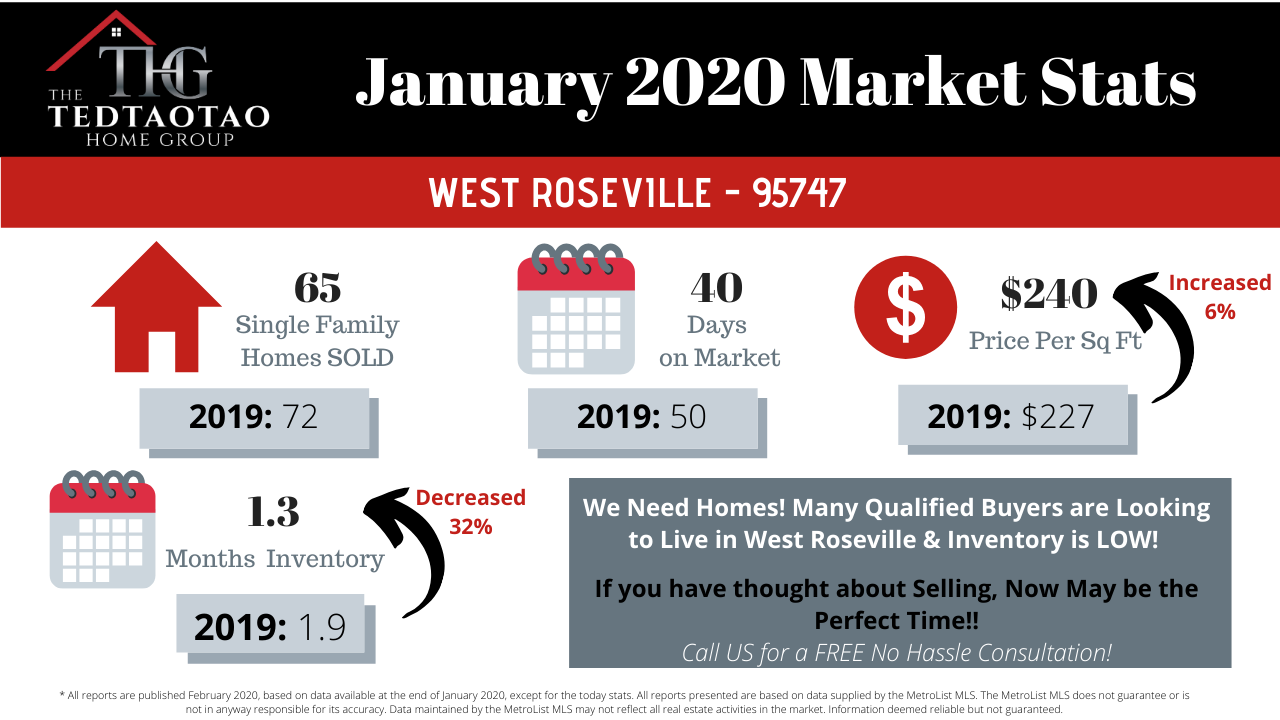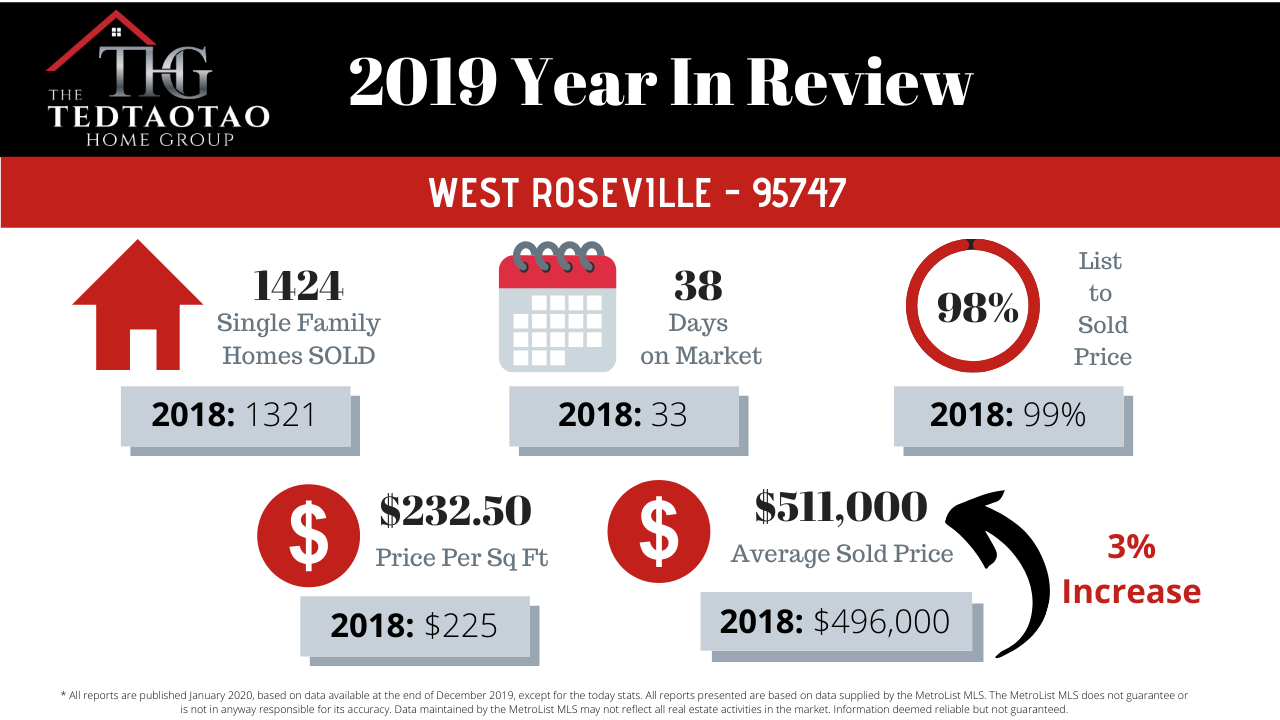 Overall, we saw a Strong Housing Market in 2019.
Sales increased year over year & these numbers don't include the staggering number of new construction homes being built. If you haven't driven to the far ends of West Roseville, you will be amazed at the thousands of houses that continue to be added by multiple builders. This is also true of the broader Sacramento region, where we see a significant amount of new builds in Rocklin, Lincoln, Natomas, Folsom, El Dorado Hills, Folsom, and Rancho Cordova.
Buyer Demand continues to Outpace Inventory. We are seeing strong demand from Bay Area relocations (both families & retirees), as well as many employers relocating or expanding operations in the Sacramento region. They are drawn to West Roseville for our fantastic schools, newer housing, lifestyle (parks, trails, shopping, ...), and proximity to employers.

As the recession rumors started early 2019, we saw buyers take a little longer when making purchase decisions & not as eager to get into bidding wars. Therefore, sellers with overpriced homes saw longer days on market. We still saw multiple offer scenarios for highly demanding homes like Pool Homes & Entry Level Homes. It is ever important to Price Listings correctly to bring in the Strongest Buyer Pool & to ensure Maximum Online Marketing Exposure to these out of area Buyer Pools.

Inventory in 95747 dropped to LESS THAN 1 Month in December 2019. As you can see in the chart below, we haven't seen it this low since May 2017. This means if no new listings come on the market, buyers would deplete our supply in 1 month. A balanced market is 6 months inventory, so we are definitely still in a

Sellers Market.

New Construction

continues to provide a much needed relief valve for buyers moving to the area, since our resale inventory has been low. These homes are selling at higher price per sq ft & buyers are adding significant value in backyards & interior upgrades, so this is good for our home values in the area.

As a seller in this area, it's important to recognize your home is being compared to these new model homes. So presentation is very important from Day 1, your home must be SHOW READY! Check out our Ultimate Concierge Services to see how we take the burden off you & ensure your home can compete with these model homes.

https://tedtaotaohomegroup.com/p/17435/seller-services
Equity Gains

of 3% in 95747. You can see in the chart below that since 2012, we have had steady, healthy gains that are sustainable. Analysts predict that we will continue to see similar gains or higher in 2020 & beyond.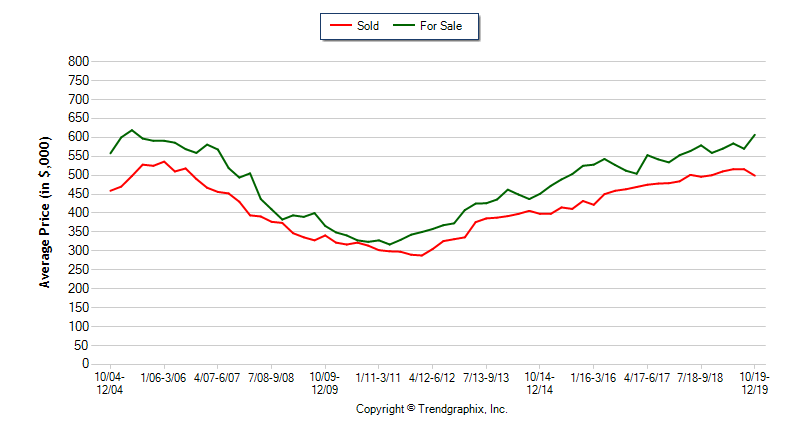 This will be an interesting year for residential real estate. With a presidential election taking place this fall and talk of a possible recession occurring before the end of the year, predicting what will happen in the 2020 U.S. housing market can be challenging. As a result, taking a look at the combined projections from the most trusted entities in the industry when it comes to mortgage rates, home sales, and home prices is incredibly valuable – and they may surprise you.
For those sitting on the fence waiting for a good deal, based on the projections you will be waiting a long time. A recession is defined as 2 quarters of declining GDP, this doesn't necessarily correlate with a decline in the housing market or a Housing Crash. The lending practices of the past played a major roll in the last housing crisis, coupled with a declining economy. As of now the economy is flourishing, rates are still at historical lows, and lending practices continue to be held to more stringent guidelines.
Interest Rates are Projected to stay below 4% in 2020
Since rates have remained under 5% for the last decade, we may not fully realize the opportunity we have right now.
Here are the average mortgage interest rates over the last several decades:

Projections from the experts at the National Association of Realtors (NAR), the Mortgage Bankers Association (MBA), Fannie Mae, and Freddie Mac all forecast mortgage rates remaining stable throughout 2020.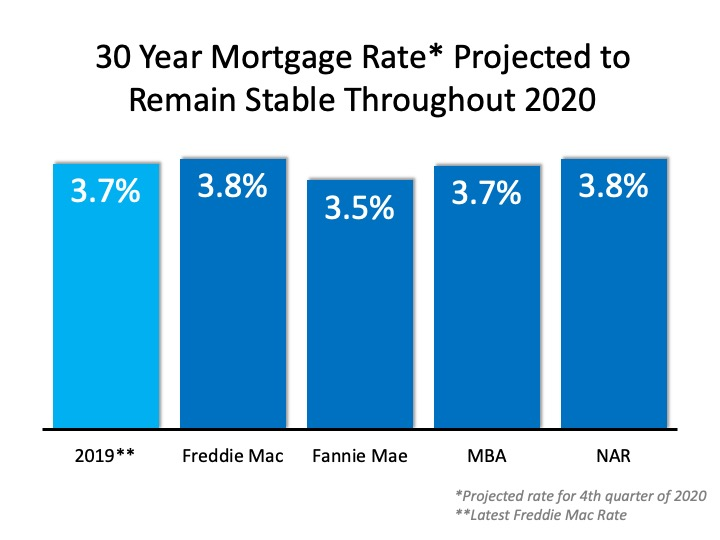 Home Sales will Remain STRONG
With mortgage rates remaining near all-time lows, demand should not be a challenge. The lack of available inventory, however, may moderate the increase in sales.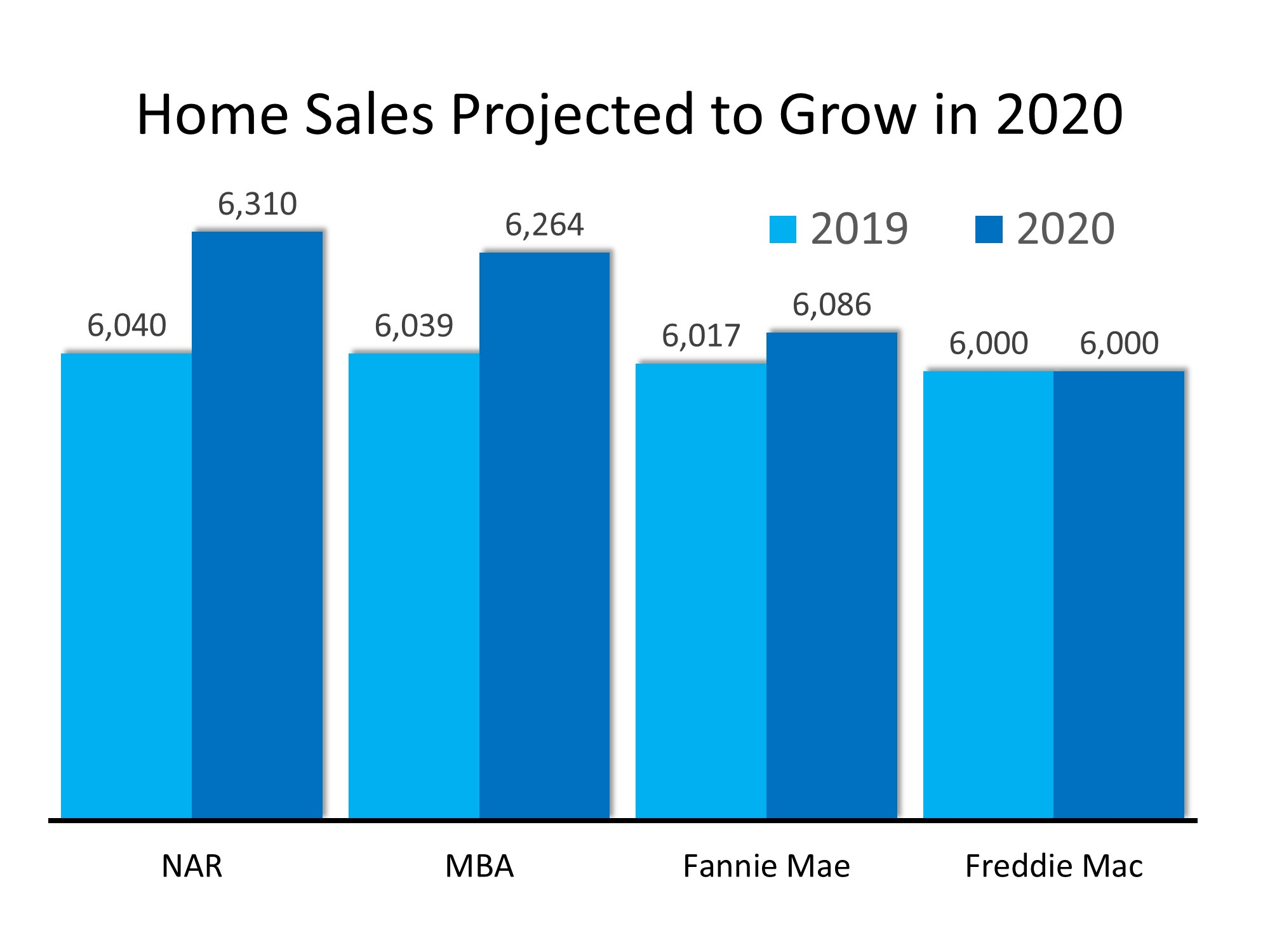 Appreciation will Continue at Healthy Rates in 2020
Top industry experts all predict positive equity gains for 2020 and beyond.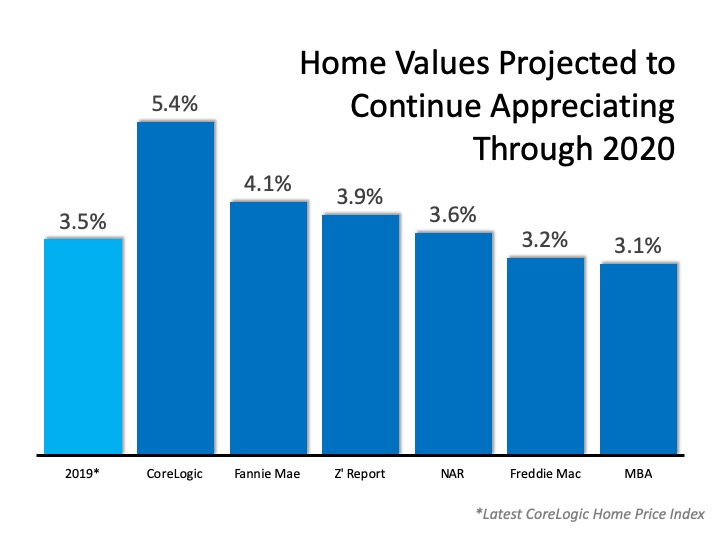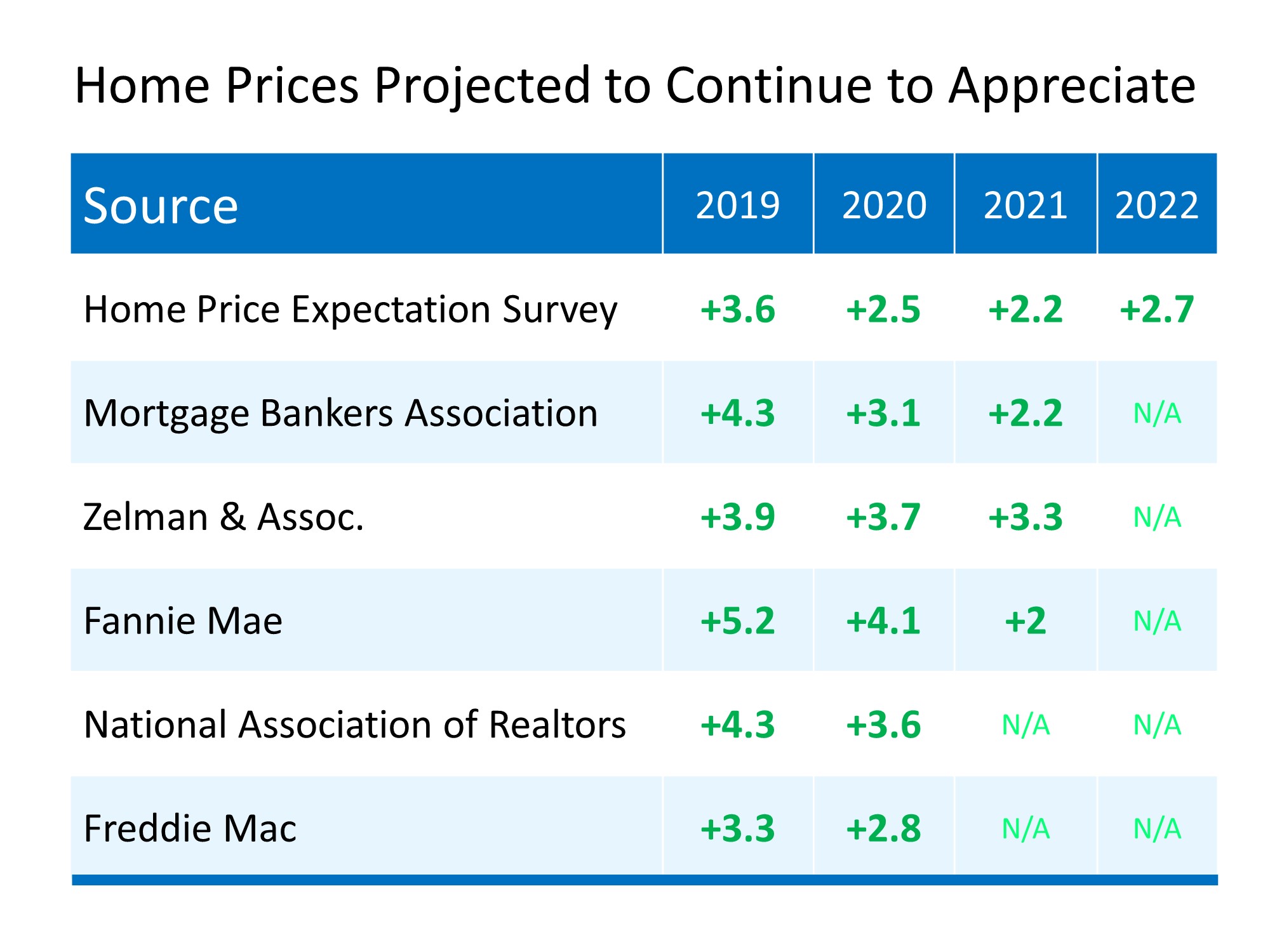 BOTTOM LINE
Mortgage rates are projected to remain under 4%, causing sales to increase in 2020. With growing demand and a limited supply of inventory, prices will continue to appreciate, while the threat of an impending recession seems to be softening. It looks like 2020 may be a solid year for the real estate market.
SELLERS: If you are Thinking of Selling, now may be the Perfect Time!
BUYERS: If you have been sitting on the fence waiting for the market to crash, based on predictions you are going to be waiting a long time. Home Affordability is fantastic, you should lock in low interest rates while they are here & reap the projected equity gains of the next few years.
Interested in Market Update Numbers for another Neighborhood, Zip Code or City, Just Ask ;)

Who You Hire Matters! It's Important to have the Right Team on Your Side to Help you Buy or Sell one of your Most Valuable Assets! We Treat Your Goals Like They are Our Own & Deliver Only the Best Service to Make you a Raving Fan for Life!
Family Team with 40 Years Experience & Expert Market Knowledge
Our Team offers you 3 Full Time Realtors with the Local Experience to Accomplish Your Real Estate Goals
Our Listings Average only 11 Days on Market! That's 70%+ Faster that the Market Average of 38 days.
Call or Text Us TODAY to Schedule your FREE Consultation! 916-800-4022
FREE Home Value Analysis
Don't rely on Zestimates, have a local expert give you an accurate analysis based on recent sales & understanding the unique features of your home.
CLICK HERE TO REQUEST HOME VALUE

* All reports are published January 2020, based on data available at the end of December 2019, except for the today stats. All reports presented are based on data supplied by the MetroList MLS. The MetroList MLS does not guarantee or is not in anyway responsible for its accuracy. Data maintained by the MetroList MLS may not reflect all real estate activities in the market. Information deemed reliable but not guaranteed. The information contained, and the opinions expressed, in this article are not intended to be construed as investment advice. Tedtaotao Home Group does not guarantee or warrant the accuracy or completeness of the information or opinions contained herein. Nothing herein should be construed as investment advice. You should always conduct your own research and due diligence and obtain professional advice before making any investment decision. Tedtaotao Home Group will not be liable for any loss or damage caused by your reliance on the information or opinions contained herein.